In Memory
Jane Borchard (Weber)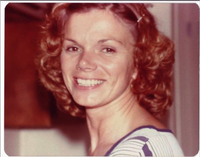 Jane Elizabeth Weber Eulogy
Thank you for coming. This would mean a lot to Jane. This is the way she wanted it to be: friends and family coming together one more time to say good-by. I have to believe that in some way, she is with us now. This is a sad occasion. Sad for us because we have lost someone we liked, admired, and in many cases loved. It is also a time to celebrate a life so wondrous and special I feel unimaginably blessed to have been a part of it.
Jane hated war but loved the soldiers that fought for their country. She will have good company here.
Jane was a special person who's like I do not think I will see again. She was the most giving, caring, selfless person I have ever known. When I first met Jane, I was, as they say, thunderstruck by her beauty, but it was the way that she truly cared about anyone in her presence and always made their needs more important than her own that made me want to spend the rest of my life with her. When Jane was a senior in high school, she applied and was accepted to a college in Iowa. She was going to make something of her life. She was going to have a career. That same year, her father was laid off from his job as a carpenter and was without work for a year. Jane quietly wrapped up her dreams of college and continued working in a grocery store to help the family make ends meet. I bring this up because at the age of 40, Jane returned to college at the University of California San Diego. Besides raising and caring for two sons and a husband, she managed to graduate summa cum laude at the top of her class. This was a woman with all of the intelligence, talent, and potential in the world and she walked away from it all at 17 because she felt the needs of her family were greater than her own.
Most of our life together was pretty much like that. When I was drafted into the army, she found a way to manage our household on my $60 a month paycheck. When I was sent to Viet-Nam, she cared for our son and had a home ready for me when I returned. As a junior officer after the war was over, I did not see much of a career for us in a piece time Army. There was, however, a company working in Iran that was hiring. She quietly helped sell the house and most of our furniture, said good-by to family and friends, and packed up our two sons to go to the other side of the world. This process was basically repeated 5 years later except this time the country was Saudi Arabia. Jane knew this was the life that I needed and was willing to put aside her own conveniences to make it happen.
I like to use the term "the wind beneath my wings," when I remember Jane, but it was much more than that. She was the guiding light that saw the best way to move forward. She was the lighthouse that warned of dangers I was frequently too dim to notice. She was the agile mind that worked out solutions to our problems and the wily general who lead the way without appearing to lead. I could get wild, ambitious ideas of things to do or become, but she was the one that made them work.
I refuse to only mourn the loss that we have experienced. Equally important is remembering the joy and happiness she created wherever she went, the breath-taking beauty she carried without appearing to know that she did, her nurturing and developing of two children who became remarkable men, the shameless, endless devotion to two grandchildren, and for always being there, through good times and bad, for the husband that never came close to deserving her. You will be missed, Jane. But I gotta believe, somewhere you are now causing a lot of smiles.
Jane Elizabeth Weber
16 July 1947 - 21 April 2015
She was born Jane Elizabeth Borchard in the most rural corner of northwestern Iowa. The town had a population of less than a hundred, nine of whom were Jane's own brothers and sisters. Her parents struggled to keep food on the table for twelve, and Jane knew hunger as a child. Yet throughout her life, she would always take pride in her Iowa roots, and remained close to her siblings to the very end. Three years after leaving home Jane found herself with child and married to an orphaned, struggling college student in Minnesota. Her new husband Roy dropped out of school temporarily to try to make ends meet, and was almost immediately drafted into the army. He went on to fly helicopters in Vietnam, the same war that would claim the life of Jane's beloved brother Lenny. Jane would despise war all of her life.
When her second son was born four years later, the war in Vietnam was winding down and Roy's time in the army was nearly up. He accepted a job offer to work for Bell Helicopter in Tehran, Iran, and the unsophisticated woman from Langdon, Iowa loaded her two young children on a plane to fly to the other side of the world.
The family moved into the basement of an apartment on a dusty dirt alley not far from Tehran's largest jube, or open sewer. Jane made the best of life there, making weekly walks across town with a toddler and a six-year-old to buy produce and kerosene at the open market. Roy eventually bought a small Iranian car, a Paykan, that would carry the family on leisure road trips to the Afghan border and across Turkey and Europe. Jane's children would grow up seeing parts of the world that few Americans knew about.
When revolution broke out in 1978, Jane and Roy held out hope—long past the flight of most Westerners—that the shah would regain control. He didn't. When the shooting encroached uncomfortably close to the family's alley, Jane packed up her two children with what little they could carry and flew back to the States, seeking refuge with her brothers and sisters then living in Colorado. Roy held out several more weeks in Tehran before fleeing himself shortly before American hostages were taken by revolutionaries at the U.S. embassy.
The family moved briefly to Texas where Roy accepted another overseas job, this time in Ras Tanura, Saudi Arabia. Life in Saudi Arabia was more comfortable than Iran, though far more restrictive for a woman. The American-owned oil company housed its employees and their families in a walled camp that closely resembled an American town dropped in Saudi Arabia's rural Eastern Province. Jane and Roy were given a new three-bedroom home, walking distance from the camp's Persian Gulf shoreline. Strict religious laws prohibited Jane from walking alone or exposing any skin while outside the camp, or from driving a vehicle either on or off the camp. At twelve, her older son learned to drive her to the camp's commissary for groceries. Jane was permitted to work, though, and she took on a secretarial job at a nearby refinery for good pay. In later years, Jane would often look back at the times in Saudi Arabia as very happy ones, despite the restrictions.
The oil company provided a world class education for employees' children, but only through the ninth grade in country. Children could then be sent to boarding schools in Europe or the U.S. at the company's expense. As comfortable as life was in Saudi Arabia, Jane was not ready to be separated from her oldest son, even for nine months out of the year. The family chose instead to resettle in California, Roy's birthplace, and with the money saved over the past five years, bought a new house near the beach in northern San Diego County. Jane fell in love with the location, and would spend the last three decades, and blessedly the last few days, of her life in that house.
Jane would go on to earn her bachelor's degree in political science from U.C. San Diego. She accepted a secretarial job with the Dean of Natural Sciences at that same institution, and would earn a comfortable retirement from the University of California some twenty years later.
Having never seen the ocean until well into adulthood, Jane held a special fascination for the beach. Much of her free time in Saudi Arabia was spent on the camp's secluded beach, and while working at UCSD she would make treks down precarious cliff trails to the shoreline at lunch each day. Many days off were spent at Moonlight Beach in Encinitas, where she delighted in taking her grandchildren, and nieces and nephews as often as she could.
Jane was an astute politicist, and held a special disdain for unnecessary wars. Early on, she drew parallels between Johnson's escalation of American involvement in Vietnam and George W. Bush's foray into Iraq. She detested the idea of America's youth fighting on foreign soil (her oldest son would be sent to Iraq twice), and she became involved in various movements that protested the Iraq war or drew attention to women's rights. Jane believed firmly that the government had no jurisdiction over a woman's body, and she was a fond supporter of Senator Barbara Boxer.
Jane battled liver disease for the past two years, and had spent much of the last three months hospitalized. By the grace of God she was able to spend her final days in peace at home with her family and her beloved cats. She is survived by her husband of 46 years, Roy, sons Jeff and Michael, daughters-in-law Deborah and Karen, and two grandchildren Jacob and Bailey, as well as two brothers and three sisters. A celebration of life is tentatively planned for June in San Diego.
From Eulogies by Jane's husband and son.