In Memory
Bonita Ebel (Harrison)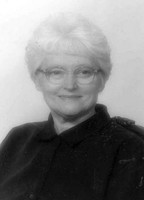 Description: Funeral services for Bonnie Harrison, 60, of Mankato, Minn., will be held Tuesday, Nov. 6, 2007, at First Christian Church in Spencer. Rev. Dan Mayes will officiate the 1:30 p.m. service. Burial will be at North Lawn Memorial Park in Spencer.
Bonnie Harrison passed away Wednesday, Oct. 31, 2007, at Hillcrest Health Care Center in Mankato, Minn.

Bonita "Bonnie" Harrison, the daughter of Ernest and Betty (Dorman) Ebel, was born May 26, 1947, in Melvin. As a young girl, her family moved to Spencer where she received her early education and graduated from the Spencer High School. Following her schooling, Bonnie worked as a nurse's aid at the Spencer Hospital and then moved to Des Moines where she was a nanny.

Bonnie was married and to this union three daughters where born. She was a devoted mother who stayed home to raise her girls. She later did daycare in her home when her girls where older. Bonnie was a member of the First Christian Church in Spencer where she served on the Ladies Circle, High School Sunday School teacher for several years and was a Youth Group Leader. The past five years, Bonnie resided in Mankato, Minnesota where she lived with her daughter Kriselle, and later she resided at Autumn Grace Assisted Living.

She was preceded in death by her father, Ernest Ebel.

Bonita is survived by her three daughters: Kriselle Brobst and husband, Dale of Mankato, Minn., Charity Zimmerman and husband, Dave of Sioux City, and Shantell Sebastian and husband, Bryan of Spencer; seven grandchildren; her mother, Betty Ebel of Spencer; two brothers: Jerry Ebel and wife, Mary Jo of Phoenix, Ariz., and Kenny Ebel and wife, Kim; and three sisters: Shirley Ebel of Spencer, Janet Rusk and her husband, Jim of Greenville, and Jane Ebel of Spencer.