In Memory
Donna Traghber (McMichael)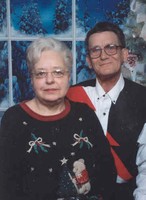 Description: Our prayers go out to the family of Donna and Jim
Donna was
Born: September 20, 1946
Died: October 29, 2006
Services:Funeral Services will be held 1:30 P.M., Wednesday, November 1, 2006 at the First Christian Church in Spencer. Rev. Cheri Gelner will officiate. Burial will be at Riverside Cemetery in Spencer.
(Dickens, IA)--A traffic accident at Dickens leaves three people dead.
It occurred Sunday evening on Highway 18 one mile east of M54 at Dickens.
A Buick Regal driven by 81-year-old Leland Boblit of Ruthven was eastbound on Highway 18 when it struck the guardrail at the entrance to the bridge. Boblit then crossed the centerline and struck an oncoming Chevy Blazer driven by 67-year old Jim McMichael of Spencer. Boblit's vehicle then caught fire.
Leland Boblit, Jim McMichael, and McMichael's passenger, 60-year-old Donna G. McMichael of Spencer, were all fatally injured in the crash.
The Iowa State Patrol was assisted by the Clay County Sheriff's Office, the Palo Alto County Sheriff's Office, the Dickens Fire Department and the State Fire Marshall's Office.