In Memory
Bruce Johnson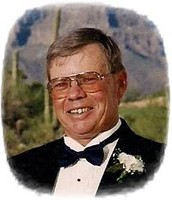 SERVICES
Funeral services will be held 10:30 A.M., Thursday, September 3, 2015 at the Warner Chapel in Spencer.
OFFICIATING
Pastor Len Halvorson
CASKET BEARERS
Mike Monroe
Rick Sandvig
Chris Mortimore
Dick Brink
Gary Halverson
Doc Manwarren
HONORARY BEARERS:
Trevor Burgoyne
Skyler Burgoyne
Andy Marlow
Colt Mortimore
VISITATION
Visitation will be held one hour prior to the services with the family present at the Warner Funeral Home in Spencer.
MUSIC
SOLOS:
"Morning Has Broken"
"Be Thou Vision"
ORGANIST: Stephen Baker
INTERMENT
Riverside Cemetery
Spencer, Iowa
A lunch and time of fellowship will be held after the burial at the Bethany Lutheran Church in Spencer.
Bruce Wendell Johnson, the son of James Wendell and Grace (Hanson) Johnson, was born February 5, 1947 in Windom, MN. His family moved to Spencer, Iowa when he was an infant. He received his education in Spencer schools, graduating from Spencer High School in 1965. After his schooling, he entered the military and served with the U.S. Army until his honorable discharge. He graduated college from Mankato State in 1969.
He married Debbie Mitchell in Spencer. Early on, Bruce worked in sales with R.J. Reynolds Tobacco. He loved traveling the country and for the last years of his working career, he drove truck for Ruan Corporation. He retired in 2013 from Ruan. He loved rooting for the Iowa Hawkeyes and was an avid golfer. Much of his free time was spent at the Spencer Golf Course and model railroading. Bruce had a great appreciation for good music and reading model railroad magazines. He cherished his time with grandchildren and traveled to Arizona often to visit the grandchildren there.
Bruce passed away at his home in Spencer, Iowa on Sunday, August 30, 2015 at the age of 68. He was preceded in death by his parents.
Left to cherish his memory are his wife, Deb of Spencer; one son, Lonnie "Lon" Johnson and his wife, Mira of Chandler, AZ; a daughter, Marci Burgoyne and her husband, John of Chandler, AZ; 14 grandchildren: Skyler, Alexis, Trevor, Brielle, Mila, Dan, Gia, Ali, Andy, Hayley, Alyssa, Colt, Emerson and Braydie; other relatives and many friends.