In Memory
Sue Ann Tewald (Wee)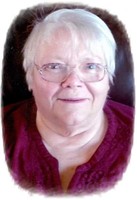 Born: May 25, 1945
Died: November 7, 2017
Age: 72
Sue Ann Wee, the daughter of Henry and Elise (Mueller) Tewald, was born May 25, 1945 in MeKenyes, Hungary. Her childhood years were spent in Hungary and Germany. Sue moved to the United States in 1956 and later became a U.S. Citizen in 1966. She received her education in Spencer, IA, where she graduated from Spencer High School in 1965.
Sue had many jobs throughout her life. She worked at Carroll's Bakery, the skating rink where she enjoyed teaching skating lessons, Berkeley's, and Stylecraft where she retired from in 2006. Throughout the years she enjoyed making crafts, sewing, crocheting, making wedding and birthday cakes, putting puzzles together and drawing. But most of her enjoyment came from watching her grandchildren participate in sports and spending quality time with her three daughters and their families.
Sue married Lynn Wee on June 12, 1966 in Spencer, IA and to this union was born three daughters: Debra, Tammy, and Kathy. They were divorced in 1981. She was diagnosed with bile duct cancer in November of 2015 and shortly after found out she had Cirrhosis of the liver stage 4.
Sue passed away at Accura Health Care of Milford, IA on Tuesday, November 7, 2017 at the age of 72. She was preceded in death by her parents; three brothers: George, Lorenz and Henry; 3 sisters: Liz (Elizabeth), Anna and Kathe; 2 nephews, Jeffery and Georgie and one niece, Carissa.
Left to cherish her memory are her three daughters: Debbie (Chad) of Fostoria, IA, Tammy (Eric) of Milford, IA and Kathy (James) of Lake Park, IA; 9 grandchildren; Brady, Braxton, Brenden, Austin, Blake, Dylan, Tyler, Dalton, and Kaylin; other relatives and friends.
Sue was a loving and caring woman who had a huge heart. She will be deeply missed by all of her family and friends, but memories of her will live on in our hearts forever.
SERVICES
Memorial Services will be held at 2:00 P.M., Saturday, November 11, 2017 at the Warner Chapel in Spencer.

A lunch and time of fellowship will be held at the American Legion Hall in Spencer immediately following the memorial services.
OFFICIATING
Rev. Shannon Workman
VISITATION
Visitation will be held from Noon until service time with the family present at the Warner Funeral Home in Spencer.
MUSIC
"Amazing Grace"
"Jealous of The Angels"
"In The Garden"
INTERMENT
Riverside Cemetery, Spencer, Iowa
Privately at a later date.